1. Homesite and Roof Assessment
.
3. Local Permits and Pertinent Paperwork
4. Ordering Your System Equipment
5. Installing Your New Solar System
6. City Inspections and Approvals
How we Install
Our 6 Step Install Process
The best moment for most home or business owners in the solar installation process is turning the system on. After all, you watched the system become part of your property and eagerly anticipated its arrival. Once you flip the switch, you've reached the point where you're using clean, renewable energy and helping keep your local area beautiful.
Of course, there are many critical steps before you can flip the magic switch. Each step is necessary to create the perfect system for your needs, and it's essential to have reasonable expectations about the solar power installation process. Let's examine what it takes to go from conventional energy to clean solar.
1. Homesite and Roof Assessment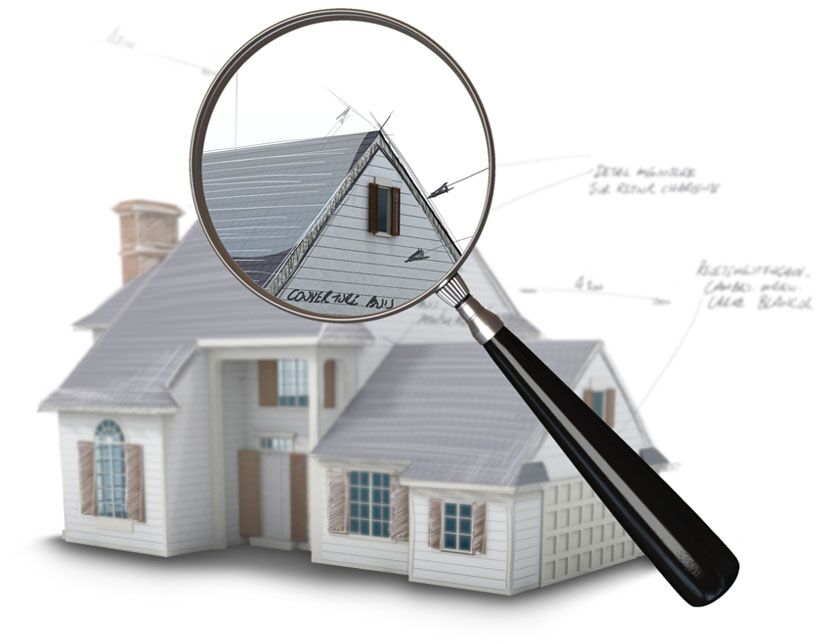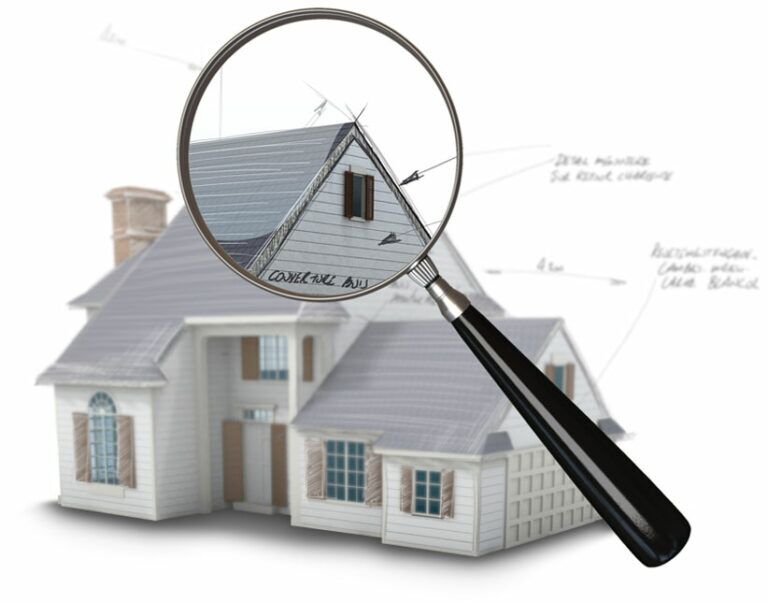 A site assessment is a necessary first step once you have picked a solar installer. At this point, a Spectrum Solar employee will visit where you want to install solar panels to understand the positioning of the building. This step is necessary to optimize the solar panel layout for your energy needs, as no two sites or buildings are the same.
Apart from how your home or business is situated, an engineer must check your roof before the installation process moves forward. This check includes measurements, structural integrity calculations, and collecting measurements about sunlight availability. The engineer will use a solar pathfinder to figure out exactly how much sunlight a system will capture throughout the year. This step is often necessary for incentive and rebate programs to show that your solar system will meet a minimum efficiency standard.
In general, south-facing roofs are preferable for solar power systems. However, that does not mean you should not consider solar as a possibility if you lack significant south-facing roof space. Depending on your utility rate, you may find east- or west-facing solar panels more valuable. They allow you to avoid peak-hour energy charges from the utility companies.
Lastly, there will be a structural evaluation to confirm that your roof can handle the added weight of the solar panels without risk of structural failure. Since many homes are built for the extreme weather of their region, this is often a straightforward evaluation. The engineer will also confirm that your home's electrical panel can support the conversion to solar. Older homes tend to have older panels, which may not be compatible. Additionally, recently renovated homes may not have enough connections available. If either is the case, you'll need to upgrade your electrical panel before solar installation can continue.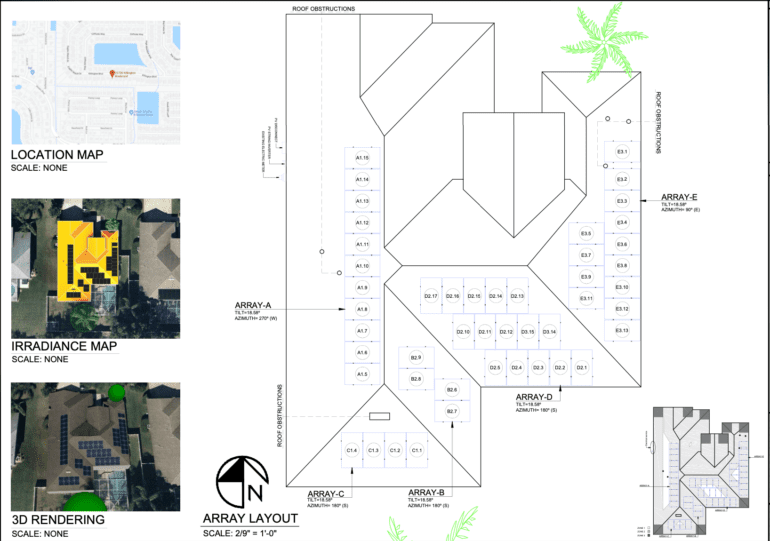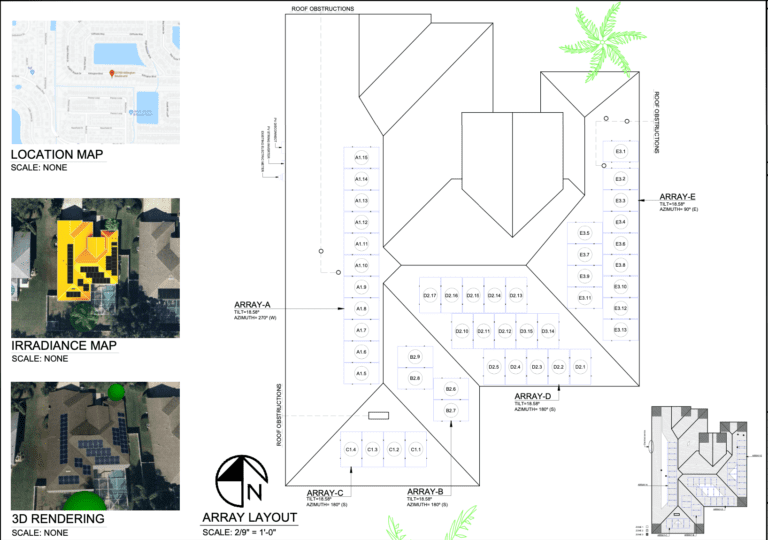 After you complete the site assessment, Spectrum Solar will recommend an optimal design for your property. Our fantastic staff will walk you through the details of your system and answer any questions you have on the design or parts used for the power system. This step ensures you get the right system for what you have in mind.
Often, solar power systems combine various solar technologies to achieve the right results for your property. For example, we primarily use black-on-black solar panels for their efficiency, but they're more expensive than older designs. We will make sure you understand the tradeoffs of using each technology and what your alternatives are so you can make an informed decision. As the property owner, you're in control over what parts we order for your system.
Once you feel comfortable, Spectrum Solar will request your approval on the system and its components. As one of many solar companies in the U.S., we want to ensure that your design truly works for what you want before we start applying for installation permits.
3. Local Permits and Pertinent Paperwork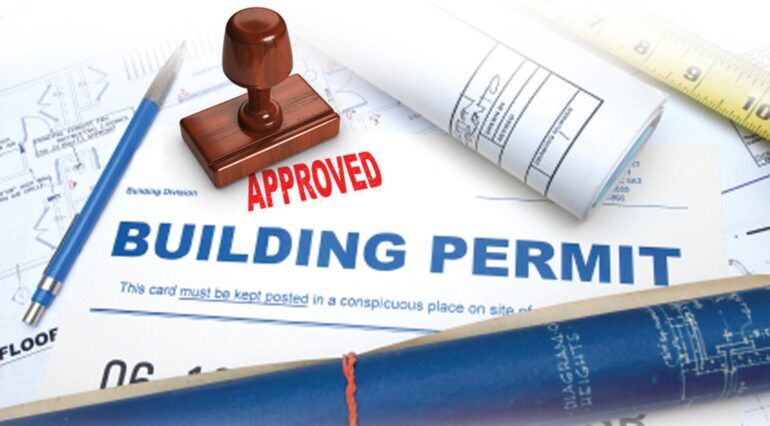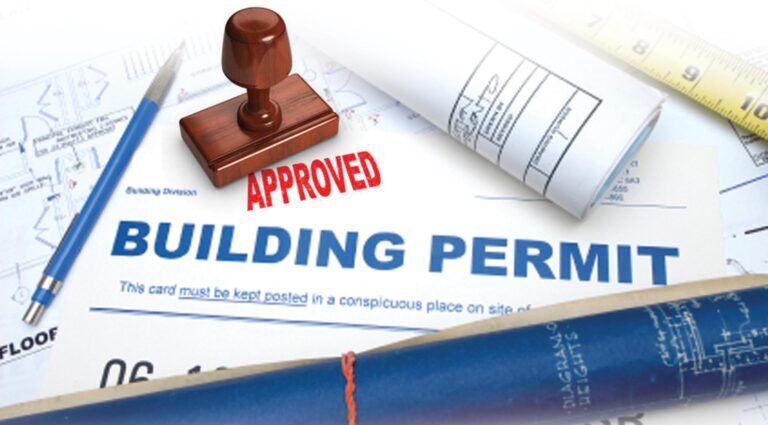 Permits are permission from the local planning and zoning commissions to have work done on your home or business. Unfortunately, building permitting requirements vary by municipality as well as state, so you would need to look up what to do if you wanted to do this yourself. In the case of your solar power system installation, Spectrum Solar handles the whole permitting process for you as part of the package.
We will also ensure you receive copies of the paperwork for the permitting process. If you intend to sell your home, these permits are part of that paperwork so that your potential buyers know the solar system was done correctly. If you do not plan to sell, the permit is essential for obtaining some of the financial incentives you want for installing solar panels.
The Spectrum Solar team is also pleased to help you file for financial incentives. As one of the best solar companies in the U.S., we're intimately familiar with the available incentives and their requirements. Options include government rebates, local solar programs, federal tax credits, and clean energy initiatives. All these options can mitigate your financial investment.
4. Ordering Your System Equipment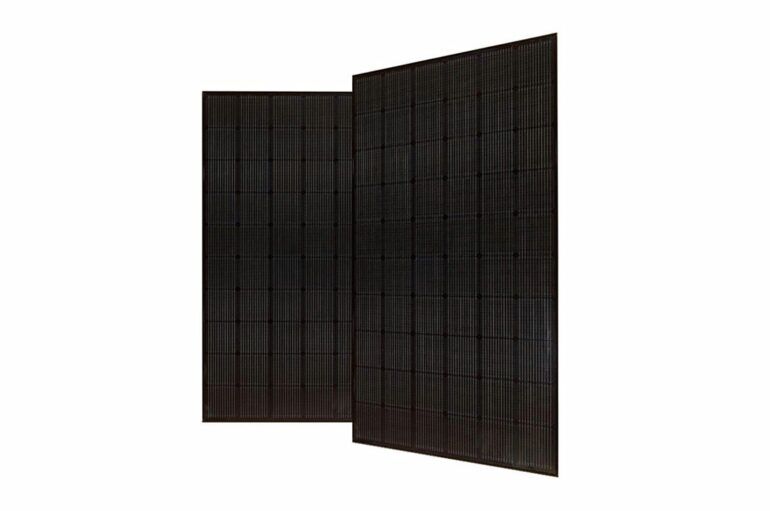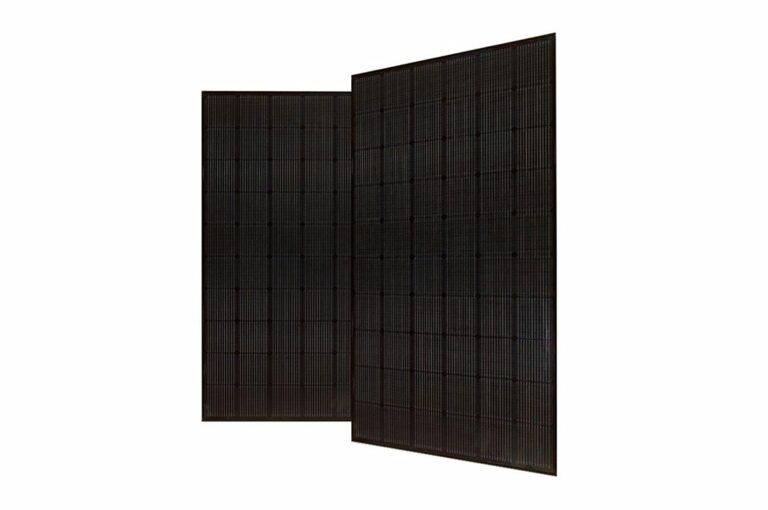 Ordering solar power equipment typically requires that you wait for the permit. How fast you can get a permit depends on your local departments. Still, a typical ballpark is one to two months after sending an application. At that point, your solar power installer will order the pieces necessary for your system as you agreed on when you finalized the design. With Spectrum Solar, every system has solar panels and inverters, but you may have also requested batteries.
We're happy to discuss the different types of equipment and the brand options available to you. The Spectrum Solar team wants you to feel entirely comfortable with your equipment decisions. We also realize that you may consider the balance between efficiency, price, look, and durability with your order.
We also encourage independent research before you commit to equipment. The Spectrum Solar team values your input on your project, and being an informed consumer helps you decide what you want more confidently. If you would like more resources, we're happy to supply those too.
Depending on when your equipment order goes out, it may take up to a few weeks to fill. This delay is due to the nature of the solar panel industry. Once your equipment arrives, we'll schedule your installation based on our work queue.
5. Installing Your New Solar System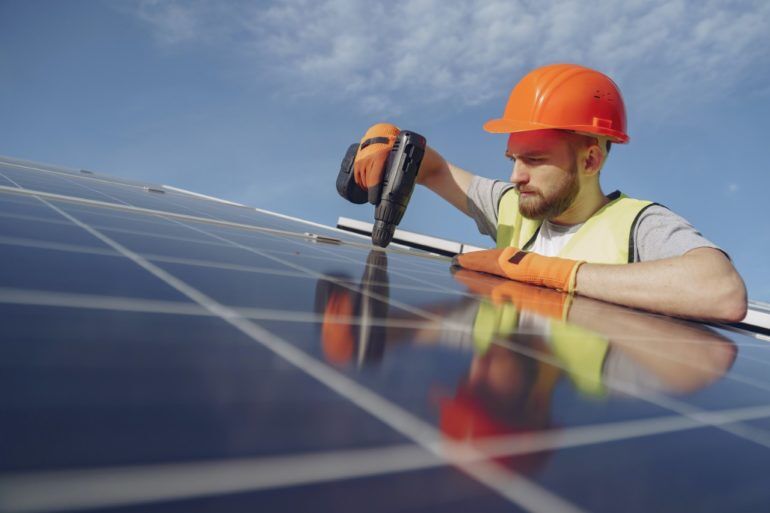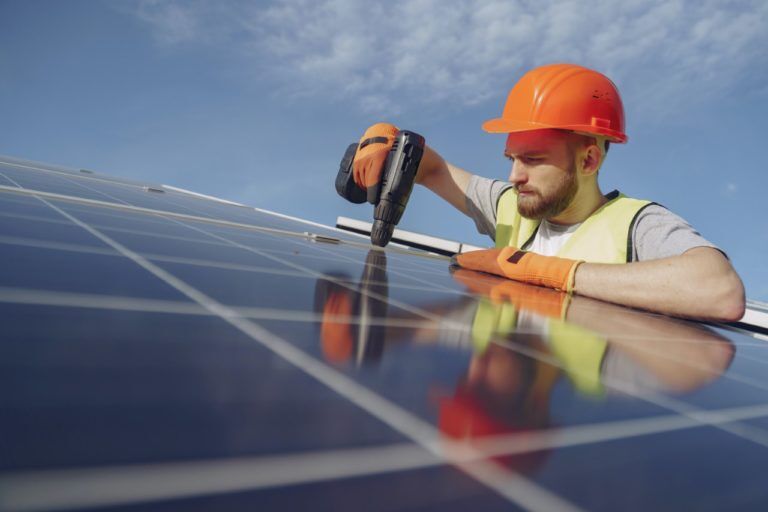 Once your equipment reaches Spectrum Solar, your permits are in hand, and your scheduled date has arrived, it's time for the installation. A typical install takes two full days, but our experience as one of the top solar companies means we understand that the complexity of a solar system may mean one to three days of installation. Items like weather and your roof shape are also deciding factors.
First, installation technicians will prep your roof so that your roofing materials can support the new solar panels. We do not want to disturb your tiles or shingles and cause your roof to leak. Then the electrical wiring is set up between your electrical panel and where the solar panels will connect. This step is followed by installing the brackets, which hold the solar panels above your roof at the optimum angle. Then the panels are placed on the racking and connected to the DC to AC inverter. Once that step is complete, there's only one more before you can turn on your new, clean system.
6. City Inspections and Approvals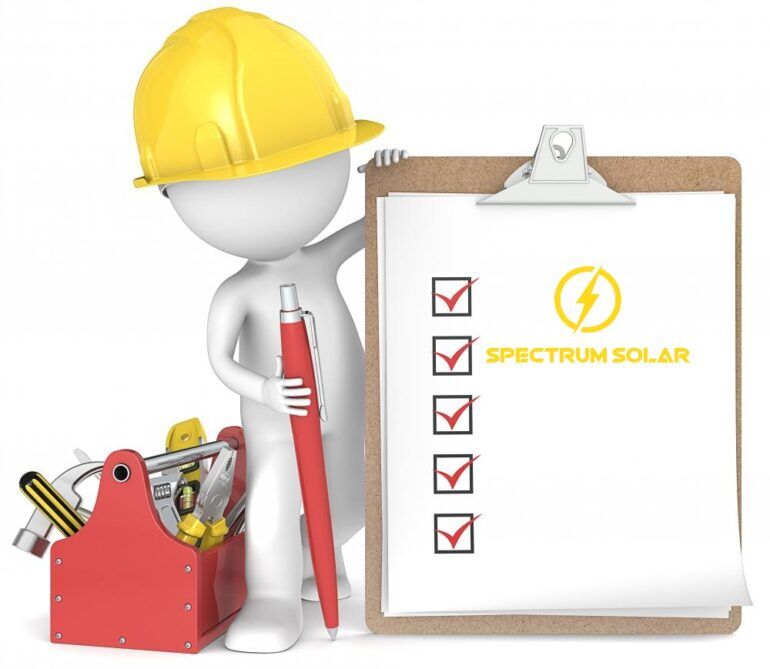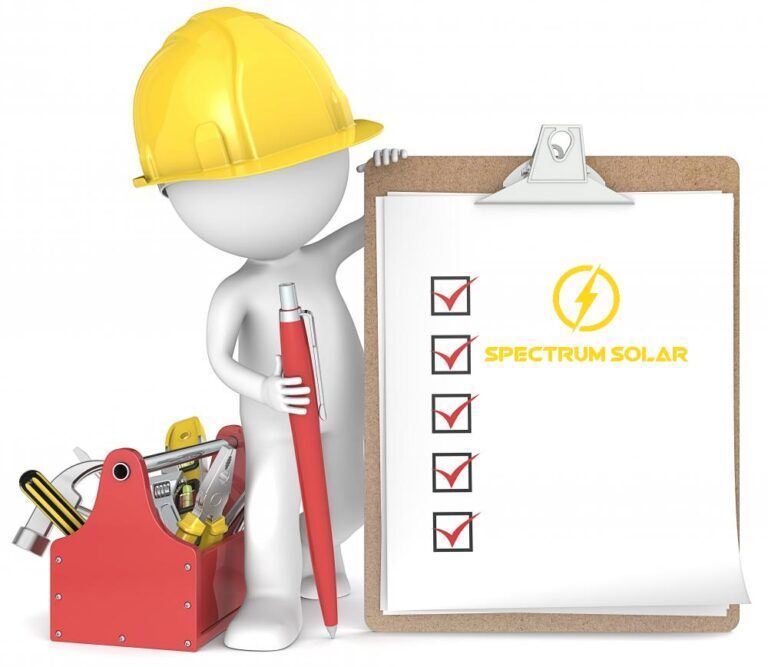 We understand you're busy, so we'll handle the coordination of an inspection time. During the inspection, a member of the local planning and zoning commission(s) and a power company representative will visit to see your system. A Spectrum Solar tech may also need to be present to ensure the visit goes smoothly. This visit simply confirms that your solar power system was installed correctly and meets local regulations. As one of the top solar companies, we guarantee it will.
After the inspection concludes and the representatives give the project the green light, the Spectrum Solar technician can turn on your clean solar power system. This is the moment you've been waiting for, and we're proud to help you get here.
No-Obligation Savings Estimate
Go Solar With Spectrum Solar
See what your neighbors are talking about and request a free savings estimate from Spectrum Solar. You'll connect with an expert in solar energy systems, and our whole team will help you every step of your solar journey.

Take control of your energy needs today! Call or contact Spectrum Solar to request your free, custom solar power savings estimate. You'll be amazed at how easy it is and what you'll save by going with the best solar company in Orlando.